On October 12th, 2022 we held our 18th Annual Hunt4Life Foundation Charity Hunt. It was once again sold out with 34 crazy, fun-loving teams. God moved in men's hearts and we all witnessed an overflow of generosity as over $650,000 was raised for different ministry causes!
Thanks to our donors, Hunt 4 Life Foundation was able to raise the funds to send 10 military couples to the first two weeks of the Samaritan's Purse Summer 2023 Operation Heal Our Patriots program. OHOP gives veterans and their spouses the opportunity for spiritual refreshment, physical renewal, and marriage enrichment through seminars and programming at their wilderness lodge in Alaska.
Green Bay Packer hall of famer, Ahman Green, and former Green Bay Packer quarterback Don Majkowski, showed up as our surprise special guests! They shared in the fun, including hunting, hammerschlagen, and axe throwing. The two also live auctioned off a new military edition green bay packer helmet signed by the two legends.
Also among the special guests were Dylan and Justin. LifeCampers who were able to attend LifeCampUSA that summer thanks to donations from the previous year's event. The two boys were also able to join in the fun of the day and especially loved bird hunting. That evening, they shared a bit about their personal testimonies from their time at camp. After sharing how LifeCamp made a positive impact on them, we were able to fundraise $265,000 for next summer's camps which should send over 100 campers to LifeCampUSA. The generosity of the hunters and "open palm" moment was humbling and left many moved to tears.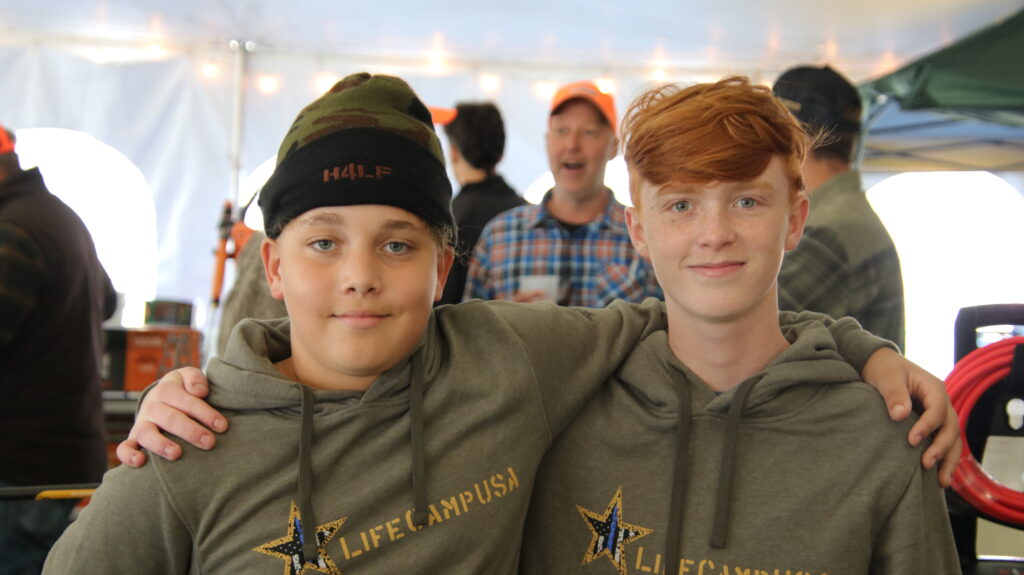 We are so thankful to our loyal supporters who attend every year and share some of what God has blessed them with to help others in need. This was one amazing day!
We have already started planning for the Fall 2023 event!! Check back for updates!